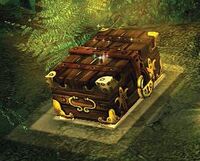 While traveling, you will find resources and treasures, including Gold, Magic Crystals, Talent Runes, Scrolls and Banners, scattered throughout the Adventure Map. In addition to finding treasure in the open, you can also search for valuables hidden underground. When your character is near a buried treasure, a special effect will mark the spot where you should dig. Click the "shovel" icon in the lower-right, or press the D key to see a buried chest appear. There are also special treasures that you will need a treasure map to find. If you have no such map, you can't dig out the treasure, even if you know the exact place where it's buried.
Ad blocker interference detected!
Wikia is a free-to-use site that makes money from advertising. We have a modified experience for viewers using ad blockers

Wikia is not accessible if you've made further modifications. Remove the custom ad blocker rule(s) and the page will load as expected.